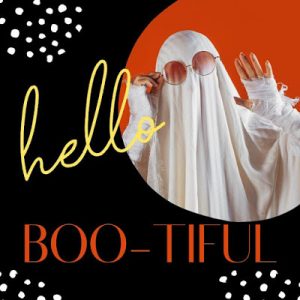 Hey Boo-tiful! 
The truth is, you are perfect and amazing just the way you are.
I know it's fun to get dressed up and I'm not going to lie, I love a good costume party. Wearing a mask and scaring people or tricking them into believing you are someone else is fun and there's nothing wrong with having fun!
But just in case someone hasn't already told you, you are beautiful just as you are. You don't need to cover up who you are with a mask or costume.
Before heading off for the tricks and treats of Halloween, here are a few other 
spooktacular
 things I want you to know!



You're not a spider.

 You were not born with eight legs, which means you can only do what you can, with what you have. Don't overload your plate, thinking you have more legs or hands than you do. Take it one step at a time. Trust you will have what you need to climb whatever wall might come your way!




If you have scary thoughts or feelings, talk to someone.

 You were not designed to walk in the dark alone, and therefore if you have scary feelings of being lonely, sad, or afraid, reach out for help. There are professionals trained to walk with you and help you walk through the scariest of days, so please don't ever feel you must go alone. 




It's on the inside that counts. 

While it's fun to carve and decorate pumpkins, the truth the interior is where we find the good stuff. The meat of the pumpkin is high in potassium, antioxidants, fiber, and vitamin A and can be used to make delicious soups, bread, muffins, pie, and more. Pumpkin seeds have grown in popularity as a nutritious snack because they are a good source of healthy fats, magnesium, iron, and fiber. When you are looking at all the beautifully carved and decorated pumpkins, remember their real power comes from the inside! 




Beware of your imagination. 

Just as you might tell a scared child that the ghost and ghouls of Halloween are not real, it's important to remember this when you start to say to yourself that what you see in the mirror is not good enough or scary. It's not true. That's your imagination trying to get the best of you and it's essential not to let it take over. 




You're still alive!

 If you're reading this, then that means you are still alive - today - and because you are here, it is time to embrace and celebrate who you are and where you are - TODAY. Don't let the ghost of your past haunt you and prevent you from moving forward. 




Remember, you are BOO-TIFUL and PUR-FECT just as you are.  



Today I'm wishing you a healthy, happy, and spooktacular Halloween!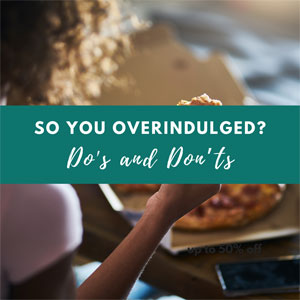 While sharing ways to help empower you not to overeat is important, I want to also give real and practical advice for what happens if you do overeat. Here are three things not to do next time you eat too much.
Don't vow to go on a diet or cleanse. As tempting as it might sound, going on a diet or cleanse is the worst thing you can do after a binge. The truth is that dieting and restrictive eating usually backfires and sets you up for the binge - starve cycle that triggers food cravings and the urge to overeat. Avoid banning or restricting certain foods and instead focus on eating in moderation. Overeating one meal is not going to cause you to gain weight. The problem occurs when overeating becomes a regular habit.
Beware of your self-talk. Telling yourself how "terrible" or "fat" you are will only set you up to feel defeated and depressed, increasing the chances of turning to food for comfort and eventually overeating.
Do give yourself grace for being human.
Do forgive yourself and move on.
Do remember all the beautiful and wonderful things your body can do.
Do know that you are enough.
Do make an effort to slow down and tune into the foods you are eating at your next meal or snack.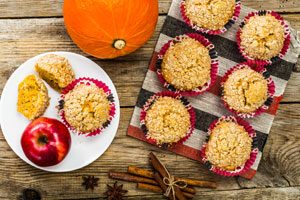 Servings: 8
Cooking Time: 30 minutes
Ingredients


3 cups Quaker® Oats


1 teaspoon pumpkin pie spice


1/2 teaspoon baking powder


1 can (15 ounces) pumpkin puree


1/2 cup nonfat milk


1/2 cup water


1/3 cup maple syrup


1 egg, beaten, or 2 egg whites


1 teaspoon vanilla extract


1 cup chopped apples


1/3 cup chopped pecans


Cooking Instructions: 
Heat oven to 350ºF. Spray a 2-quart baking dish with nonstick cooking spray. In a large bowl, stir together oats, pumpkin pie spice, and baking powder. Stir in pumpkin, milk, water, syrup, egg and vanilla extract until well combined. Stir in apples. Pour into a baking dish. Sprinkle with pecans. Bake 30 minutes or until knife inserted near center comes out clean. Let stand 10 minutes before serving.
"Halloween is not only about putting on a costume, but it's about finding the imagination and costume within ourselves."
Elvis Duran