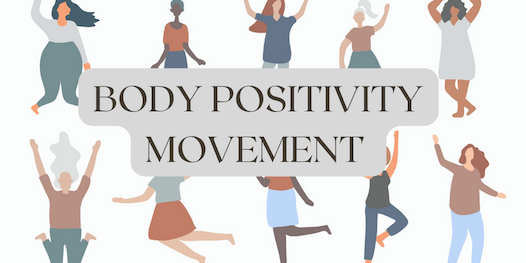 Expand Your Understanding of Health and Wellness. It's no secret that media outlets, celebrity influencers, and marketing masterminds have influenced how our society defines health and wellness. All this information has led us to a place with disordered views of what it means to be healthy. Therefore, the first step toward embracing positive body movement is understanding that health and wellness encompass your physical, mental, and spiritual well-being. 
It's important to remember that wellness and weight are not linear. Living a healthy life is a personal journey that includes physical, social, environmental, emotional, intellectual, and spiritual. 
Fall Into Body Positivity Action Step: Define what wellness means to you in the following categories of your life: physical, social, environmental, emotional, intellectual, and spiritual. 
Practice Positive Affirmations. Pay attention to the words you tell yourself and start talking to yourself like you'd speak to a friend. As you become more aware of your self-talk, you'll begin to catch negative thoughts pulling you down. Begin replacing negative with positive and uplifting affirmations. The more you practice positive self-talk, the easier and more natural it becomes! The simple switch of replacing negative thoughts and words with positive ones will significantly change your self-image. 
Fall Into Body Positivity Action Step: Practice speaking to yourself positively daily, reminding yourself how amazing and worthy you are! Place encouraging sticky notes on your mirror, in your car, and by your desk.
Stop Comparing Yourself to Others.
Embrace the fact that people come in all different shapes and sizes and that there is no one standard for beauty. Beauty is found in so many things; more importantly, the beauty from one's inside shines through the outside. Comparing yourself to others is a waste of time and energy. Think about how boring life would be if everyone looked and acted the same!
Fall Into Body Positivity Action Step: Instead of comparing, start complimenting! Sharing compliments with others adds a positive boost to someone else's day and opens yourself up to more positive energy. 
Engage in Daily Movement. Being body positive means practicing self-care; regular movement is crucial not only for your physical body but also for your mental well-being. Respect your physical limitations and participate in an activity that positively challenges you. Regardless of how tired or unmotivated you might feel, moving your body, whether walking, running, cycling, dancing, or swimming, will make you feel accomplished and strong! Regular movement builds self-confidence, and you'll become mentally and physically stronger. 
Fall Into Body Positivity Action Step: Find a community of people to move with! Enlist friends for a regular walking date, enroll in a new fitness class, take a dance class, or sign up for tennis lessons. The point is to find other people to move with; they will keep you accountable and make it more fun! 
Fuel and Nourish Yourself with Good Food. The body positive movement focuses on shifting away from the "diet" mindset and understanding and appreciating how foods nourish and fuel your body. Eating well means enjoying food that makes you feel good inside and out. Being body-positive means you want to eat foods that support, fuel, and nourish your body and life. Working with a registered dietitian can help you discover your fuel and nourishment plan for a body-positive life! 
Fall Into Body Positivity Action Step: Begin to explore what foods make you feel satisfied, energized, and strong. Keep a journal and reflect on what foods you enjoy vs. ones you eat because they are convenient or out of habit.