Greek Yogurt Parfait: Layer Greek yogurt with fresh berries, a sprinkle of nuts or seeds, and a drizzle of honey for a protein-packed and fiber-filled treat.


Oatmeal with Nut Butter: Prepare oatmeal with water or milk, and then stir in a spoonful of almond or peanut butter for added protein and healthy fats.


Eggs and Whole Grain Toast: Scramble or boil eggs and serve them with whole-grain toast for a balanced and satisfying breakfast. Add a spread of avocado and top with cherry tomatoes for an added nutrient boost.


Smoothie Bowl: Blend frozen fruits, a scoop of protein powder, a handful of spinach, and a splash of almond milk. Top with granola, chia seeds, and sliced banana.


Chia Seed Pudding: Mix chia seeds with almond milk and a touch of honey. Let it sit in the fridge overnight, and top with fresh fruit in the morning.


Cottage Cheese Cup: Combine cottage cheese with diced fruits like pineapple or peaches. Sprinkle with crushed nuts or seeds and a drizzle of honey.


Avocado Toast: Spread mashed avocado on whole grain toast and top with sliced boiled eggs and a sprinkle of chia seeds.


Breakfast Protein Wrap: Spread hummus on a whole-grain, high-fiber tortilla (i.e., LaTortilla Factory) and top with grilled chicken breast or sliced hard-boiled eggs, avocado, spinach, and tomatoes.


Smoked Salmon Toast: Toast a slice of whole grain bread and top with 2 - 3 oz smoked salmon, avocados, and sliced tomatoes.


Trail Mix Crunch: Create your own trail mix with nuts, seeds, dried fruits, and high-fiber cereal for a portable and nutritious morning snack.


High-Protein Pancakes: Make pancakes using a mix high in protein and fiber. Top with yogurt, berries, and a dollop of nut butter.


Fruit and Nut Salad: Combine chopped fruits like apples, pears, and berries, top with Greek yogurt, a dollop of honey, and chia seeds.


Three No Prep Options: 







Protein Bar: Pair a high-protein bar such as the RxBar with a piece of fruit for a meal on the go.


Oats in a Cup: RxBar A.M. Oats are high in fiber and with a boost of protein from egg whites. All you need to do is add some water, heat it, and it is ready to eat!


RTD (Ready to Drink): Looking for a ready-to-drink option? Check out the Orgain line or ready-to-drink protein shakes. There are a variety of options to fit your needs and dietary preferences. Add a piece of fresh fruit for added energy and nutrient boost!







Supercharge your morning routine and make the most out of each day with these tips:


Hydrate. Start your day with a glass of water to rehydrate your body after sleep and kickstart your metabolism.


Breathe. Carve out time to practice deep breathing and meditation, two fundamentals for reducing stress and anxiety.


Move Your Body. Light stretching, yoga, or a short walk will get your blood flowing and boost your mood.


Plan in Advance. Reduce stress by preparing and planning for success. Invest a little time each night planning the following days' meals and snacks and what you will wear.


Go Outside! Spend a few minutes outdoors to soak in natural sunlight, which helps regulate your body's internal clock.


Be Consistent. Try to maintain a regular sleep schedule, as a consistent sleep pattern contributes to better morning energy levels.


Stay Positive: Start your day with positive affirmations or gratitude exercises to set a positive tone.


Everyone's needs differ, so find what works best for you and tailor your morning routine accordingly.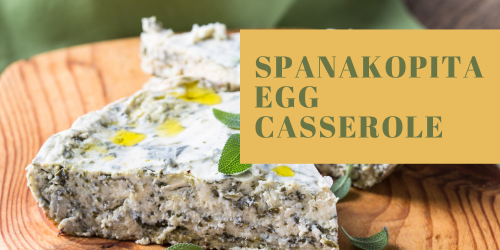 Ingredients:


2 tsp olive oil


1 small onion, diced


2 cloves garlic, minced


5 oz baby spinach


¼ tsp sea salt


¼ tsp black pepper


8 large eggs


½ cup light cream


½ cup full-fat ricotta cheese


½ cup feta cheese


¼ cup fresh dill


¼ cup fresh parsley, chopped


Preheat oven to 350 F. Spray a 9-inch square baking dish with cooking spray.
In a large skillet, heat oil over medium-low heat. Add onion and garlic. Stir frequently and cook until soft. Add spinach, salt, and pepper, and cook till the spinach is wilted. Transfer to prepared dish spread to coat the bottom.
In a large bowl, whisk together eggs and cream until well combined. Stir in ricotta, feta, parsley, and dill.
Pour egg mixture over the spinach layer; gently stir, allowing some spinach to mix into the eggs. Bake until set, about 25 to 30 minutes. Cut into six squares, and serve warm.
Nutrition Facts: 221 calories, 16 grams fat, 7 grams saturated fat, 277 mg cholesterol, 344 mg sodium, 6 grams carbohydrates, 1 grams fiber, 14 grams protein