BiteSnap (1.5.7):
A food tracker designed to log meals and track calories through pictures. It's as simple as taking a picture of your plate and uploading it to the app. BiteSnap then uses artificial intelligence to recognize what food items are in the photo to calculates the calories and nutrients. You can also personalize your experience by importing data from your phone's health app or manually enter weight, height, age and activity to calculate a target calorie level.

Real Plans (ios version 7.6):
A customizable meal planning app that provides healthy and seasonal recipes. Includes more than 2,000 seasonal recipes with options for traditional meals and those following vegetarian, pescatarian, paleo, autoimmune and other diets. You can also include or exclude specific food groups or ingredients when creating your meal plan.

Simple Feast:
Delicious, healthy, simple recipes on one mobile destination! Select from a number of categories including vegetarian, vegan, fish and seafood, meat, breakfast and brunch, breads, alcoholic and non-alcoholic beverages and cocktails, desserts, anti-inflammatory, paleo and gluten-free. There is also an option to build and save your own recipes.

mySugr:
A comprehensive logbook for tracking all things. The logbook is designed to track and enter details for meals, symptoms (hypo or hyper feelings), pre- and post- physical activity readings, emotions, vacation, shopping and even more in the premium version. Provides daily to monthly data and trend analyses, blood glucose graphs and other reports that can easily be exported as PDF, CSV or Excel files.

FODMAP:
Grocery Guide is designed to make shopping and selecting foods easier for those following the FODMAP diet. It provides lists of Low-FODMAP food and their associated aisles. Make custom lists to check off as you shop. The best part is, it was made by a RD who specializes in digestive health.

Probiotic Guide App:
Probiotics are great for gut health, but can sometimes be confusing. The Probiotic Guide is an educational tool that makes it a little easier to discover, research and identify the right probiotic supplement or food for specific conditions or indications from a smartphone. Users can search for probiotics by brand name, age, gender, and indications from digestive issues to cholesterol-lowering.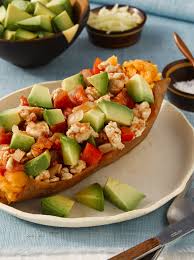 By:
Hass Avocado Board
Total Time: 75 minutes | Prep: 15 minutes | Cooking: 60 minutes | Recipe Serving Size: 4 | 1 serving = 1 medium sweet potato
Ingredients
4 medium sweet potatoes
1 Tbsp. olive oil
½ cup diced onion
¼ cup diced red bell pepper
1 clove garlic, minced
¾ tsp. ground cumin
½ tsp. dried oregano
¼ tsp. salt
8 oz ground white meat turkey
1 (14 oz) can petite diced tomatoes in juice
1 ripe avocado, halved, pitted, peeled, and cubed
¼ cup grated cheddar cheese
Note:
A large avocado is recommended for this recipe. A large avocado averages about 8 ounces. If using smaller or larger size avocados, adjust the quantity accordingly.
Instructions
Heat oven to 400℉.
With a fork, pierce sweet potatoes all over several times. Place on a baking sheet lined with aluminum foil; bake until soft and fork tender, about 45 minutes.
Heat oil in a deep skillet over medium heat. Add onion and pepper; cook, stirring occasionally, until tender, about 5 minutes. Stir in garlic, cumin, oregano, and salt.
Add turkey; cook, stirring and breaking meat up with a spoon, until no longer pink, 3 to 5 minutes. Stir in tomatoes. Reduce heat to medium-low; cover and cook 20 minutes.
Remove from heat and stir in avocado. Slice baked sweet potatoes lengthwise just until open. Fill with turkey mixture.
Serving Suggestion:
Top with cheese, if desired.
Calories: 319 | Total fat: 14 grams | Saturated fat: 2.5 g | Cholesterol: 32 mg | Sodium: 556 mg | Total carbohydrates: 35 grams | Dietary fiber: 9 grams | Sugars: 11g | Protein: 15 grams
"The best six doctors anywhere and no one can deny it are sunshine, water, rest, air, exercise and diet." ~Wayne Fields