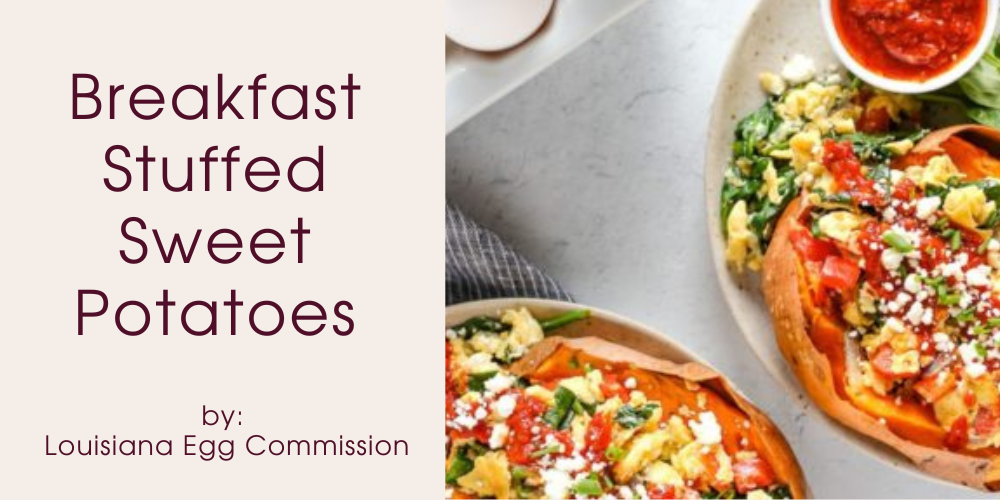 2 large sweet potatoes 




1 Tbsp olive oil 




¼ cup red bell pepper, diced




¼ cup red onion, diced 




4 eggs 




½ tsp seasoning blend 




1 cup fresh spinach 




Salt and pepper to taste

 




2 Tbsp goat cheese crumbles 




2 Tbsp harissa chili paste 




Chives for garnish 



Directions: 
Heat your oven to 400 degrees F.
Sweet Potatoes:
Wash and dry the sweet potatoes. Then rub with a small amount of olive oil. Place on a baking sheet and carefully pierce the skin several times with a sharp knife or fork.
Bake for 30-40 minutes, or until sweet potatoes are tender. Remove from the oven and allow to cool slightly before slicing open lengthwise and adding the scrambled egg mixture.
Egg Stuffing: 
During the last 10 minutes of baking the sweet potatoes, prepare your bell pepper and onion by dicing them into small pieces. Heat a medium skillet over medium-high heat with the remaining olive oil.
Add the bell pepper and onion to the skillet and cook, stirring occasionally, for 3-4 minutes. While the veggies are cooking, crack the eggs into a small dish, add your seasoning blend, and whisk.
Pour the egg mixture over the bell pepper and onion, then add the fresh spinach. Cook for 3-4 minutes or until the eggs are fully cooked and the spinach is wilted and evenly mixed. Season with salt and pepper to taste.
Transfer the baked sweet potatoes to a plate. Carefully stuff the scrambled egg mixture into the opening of the baked sweet potato. Top with goat cheese crumbles, harissa, and chopped chives, if using. Serve hot! 
Makes 2 servings. 
Nutrition Information Per Serving: 390 calories, 21 grams fat, 5.5 grams saturated fat, 2.5 grams polyunsaturated fat, 9 grams monounsaturated fat, 400 mg sodium, 33 grams carbohydrates, 2 grams fiber, 400 mg sodium,  17 grams protein 
Recipe reproduced from
Louisiana Egg Commission