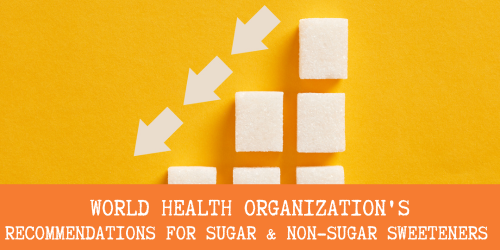 Excessive sugar consumption is linked with many health problems, including obesity, tooth decay, cardiovascular diseases, and type 2 diabetes. The WHO guidelines advocate for a significant reduction in the intake of added sugars, including added sugars and naturally occurring sugars in honey, syrups, and fruit juices. These guidelines emphasize the importance of curbing sugar intake to maintain a healthy weight, reduce the risk of chronic diseases, and promote overall well-being.


The recommended daily sugar intake for adults and children is less than 10% of total energy intake, which is equivalent to 5 to 10 teaspoons of free sugar per day.


The term "added sugars" is used here to refer to all sugars added to foods and beverages. It also includes sugars that occur naturally in honey, syrup, fruit juice concentrates, and fruit juices.


For an average adult (with a calorie intake of 2,000 kcal), 10% energy is equivalent to no more than 50 grams of added sugar per day (about ten teaspoons or 14 sugar cubes).


For children 1 to 3 years, 10% energy is about 30 grams of added sugar daily.


For children 4 to 6 years, it is about 35 grams of added sugar per day.


For children 7 to 10 years, it is about 42 grams of added sugar per day.


In addition, WHO considers reducing added sugar intake to below 5% percent (i.e., no more than five teaspoons of sugar per day for adults) a reasonable long-term health policy goal.


The WHO guideline does not refer to the natural sugars found in fresh fruit or milk, but only to added sugars of all types.


Non-Sugar Sweeteners:


WHO recommends against the use of non-sugar sweeteners for controlling body weight or reducing risk of noncommunicable diseases. The recommendation applies to all people except individuals with pre-existing diabetes.


This recommendation does not apply to personal care and hygiene products containing NSS, such as toothpaste, skin cream, and medications or to low-calorie sugars and sugar alcohols (polyols), which are sugars or sugar derivatives containing calories and are therefore not considered NSS.