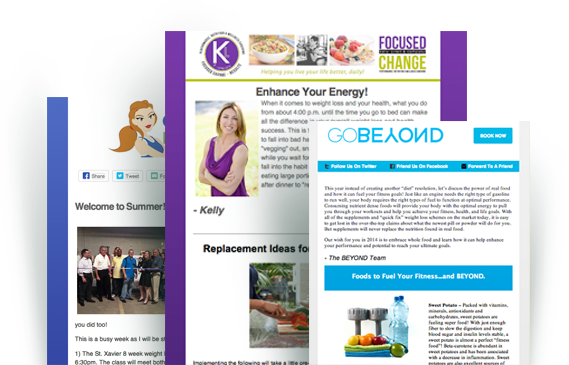 It's no secret that a regularly scheduled nutrition newsletter from registered dietitians, nutritionists, and health coaches is a great way to market your business.
Don't sweat over creating content.

Keep your business top of mind.

Strengthen client relationships.
Build Relationships That Last.
Save Time
No more staring at a blank screen when you've got to write a customized nutrition newsletter to your customers. Point and click on the content you want.
Be the Expert
Customers thrive on constant insights and resources. Choose from a variety of topics that represent your expertise.
Connect with Mailchimp
Our system is integrated with MailChimp, which makes sending email nutrition newsletter campaigns that educate and inspire easy as "1-2-3."
Grow Your Business
After you select your content, customize your nutrition newsletter with your own business news and events.
Watch and discover how it works.
I love that I have Customized Nutrition Newsletters to keep my business in front of my clients who often forward along to share with their friends, which gives me and my practice valuable exposure…a great marketing tool and service valued by my clients.

I also love that I can customize the newsletter with a personal note and the articles I can switch to fit my philosophy. This helps make sure the message is true to my beliefs and values. Miranda Monroe, MS, RD

"I love the newsletter. Wondering why I didn't do this a long time ago!!!"

Lesli Koskela, MBA, RD, LDN CLT, cWC

"Using Customized Nutrition Newsletters has been, by far, the easiest way for me to stay connected to my patients. It typically takes me no more than 15 minutes each month to choose which articles, recipes, and quotes are most fitting for my patient population."

Kate Rountree, RD, LDN

"For years I was writing and sending out my own newsletters. I was spending countless hours that I could have been spending counseling clients. I am very happy that I decided to use Customized Nutrition Newsletters.

I especially love that I can customize the newsletters with a personal note, news and events that are happening in my practice. I recommend CNN to anyone who wants to market their practice with a quality product and save time." Bonnie R. Giller, MS, RD, CDN, CDE

"Customized Nutrition Newsletters was just what I was looking for to stay in contact with clients and potential clients. I have received many compliments on how professional it looks and the great information provided. Thanks!"

Lynda Binius Enright, MS, RD, LD